Artist agency and artistic Talent promoter
G4F Talents supports, protects and helps its artists to develop their skills and career. We represent them when dealing with professionals in the image industry (video games, animation, cinema, etc.), provide full legal assistance and work hard to raise their profile.
Legal Services
Legal monitoring
Administrative Services
Career coaching
Marketing Services
PR and promotion
Contract Negotiation
Negotiation of the terms of the commissioned work, copyrights and royalties.
Negotiation of contract terms: type of rights assigned, duration, etc.
Monitoring of the use of the works
Management of the exploitation of the work, including verification of use in accordance with the terms negotiated, negotiation of remuneration in the event of additional exploitation and author credits on visual material.
Verification of the correct execution of contracts
Credit control prior to release
Control of the terms of use of the work
Defense of the author in litigation proceedings
Defense of the author should an infringement or adulteration of the work arise when used by third parties, including exploitation on the Internet that violates the author's moral rights.
Marketing Services
Implementation of a personalized PR strategy created in collaboration with the artist
• Artist presentation on the G4F Talents website, connected to all social networks
• Photo shooting in our studio
• Press KIT downloadable on the artist page (press kit: presentation – discography – awards – interview – pictures – links)
• Broadcasting of the news on our G4F Talents website and B2B newsletter.
• Booking solution to concerts and showcases
Additionnal Services:
• Community Management
• Website optimisation & SEO / Creation of a new website
• Promotional videos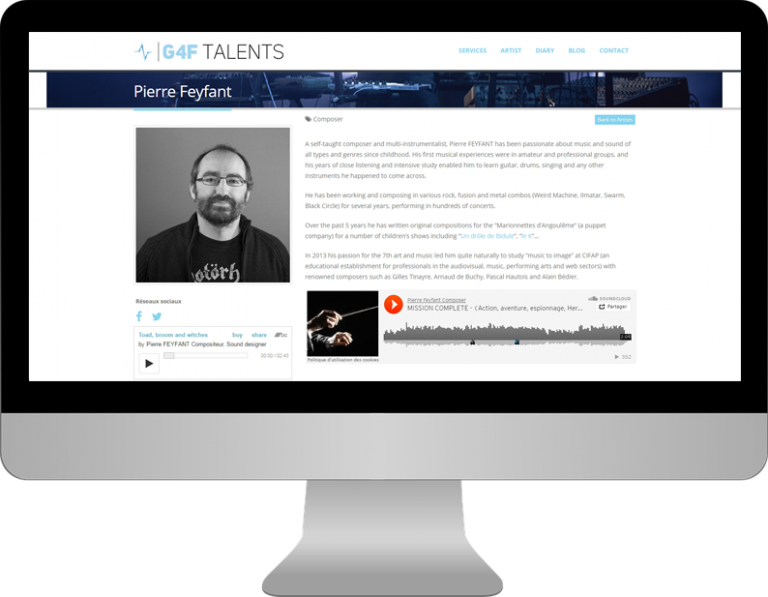 Management of the declaration of works
Management of the declaration and registration of works with the collection management bodies SACEM (the French collecting society for authors and composers) and SACD (the French society of dramatic authors and composers).
Deposit of the works
As the publisher, we will handle all the formalities with the collection management bodies.
Monitoring of royalty statements
Management of the correct reporting and payment of copyright fees transferred by the collection management bodies in France and overseas.